Click the following header to read more about the articles..

Meeting the leopards of Sri Lanka

Wednesday, 11 December, 2013

Dark Secrets of a Black Beauty

Sunday,08 October 2013
Monday,26 August 2013
Tuesday,06 August 2013

Hit And Run Vehicle Kills A Leopard In Yala
by Malaka Rodrigo

Sunday, 06 November 2011
Sunday, 23 October 2011

Mother leopard's fate still a mystery
by Hiran Priyankara Jayasinghe

Sunday, 17 July 2011

Rescued leopard cubs in safe hands
by DHANESHI YATAWARA

Sunday, 10 July 2011

Three leopard cubs rescued
by Malaka Rodrigo

Sunday, 3 July 2011

Another Hill-Country leopard bites the dust
by Malaka Rodrigo

Sunday, 19 June 2011

SRI LANKA: YALA NATIONAL PARK
by DANIEL NIELSON

Saturday, 8 January 2011

Black leopards in Yala
byChilders JAYAWARDHANE

Tuesday, 26 May 2009

Tracking the Lankan Leopard
By Andrew Kittle

Sunday May 10, 2009

Pens to protect
By Malaka Rodrigo

Sunday May 10, 2009

Leopard shooting raises questions
Six-foot carcass of animal found in culvert close to main entrance of Yala National Park
By Malaka Rodrigo

Sunday April 26, 2009

Rare black leopard a new species?
By Yohan Perera and Ajithlal Shanthaudaya

Saturday, March 07, 2009
Leopard meets its death
by R. L. Gurugamage- Dodanduwa

Monday, 16 February 2009
Meeting the leopards of Sri Lanka
AG editor-in-chief Chrissie Goldrick invites you to see the majestic wildlife of Sri Lanka
The Sri Lankan PANTHERA pardus kotiya is one of nine recognised subspecies of leopard. This apex predator of the island of Sri Lanka is generally bigger than its close relatives on other continents, where larger members of the cat family, like lions and tigers, still roam.
Leopards are the smallest of the 'big cats' with long, lithe bodies, stocky legs and big paws. As with other leopards, Sri Lanka's leopards' coats are tawny yellow, marked with the dark spots and rosettes that characterise the species. Each animal's markings are individual and unique, like a fingerprint.
There's been little scientific research carried out on the Sri Lankan leopard population thus far. Observations have revealed that they may be more social than other subspecies and they are known to have tackled bigger prey, including buffaloes. These differences may be a reflection of the Sri Lankan leopard's unique position at the top of the food chain in the island's ecology.
Smallest of the 'big cats'
Leopards are opportunistic hunters and prefer to stalk and ambush a wide variety of prey, but they'll readily scavenge carrion too. In Yala National Park in Sri Lanka's south, plentiful herds of spotted deer make up the majority of the leopards' diet. These elegant mammals are primarily arboreal and nocturnal and are generally solitary, with the exception of females with cubs. Both sexes are territorial but males' territories tend to overlap those of several females. Leopard breeding in Sri Lanka is thought to take place during the dry season, May to July, and litter size is usually two cubs.
Leopards have always been highly-prized for their coats wherever in the world they have occurred, and there has been an increase in the number of skins seized by authorities in Sri Lanka in recent times. Destruction of habitat is a further threat coupled with past years of civil unrest in Sri Lanka that have also hampered conservation efforts.
With over 35 recorded individuals, Yala National Park has one of the world's densest leopard populations and is famous as one of the best places to catch a glimpse of one of these fabulous felines. The best time to spot leopards is between February and June/July, when the water levels in the park are lowest.
Yala: thriving wilderness
Elephants are also popular residents here (the best time to see them is also between February and July), and with luck you might also see sloth bears, sambhur deer, spotted deer, wild boar, porcupines, anteaters, civet cats, lorises, giant squirrels and lots of monkeys such as the macaque, purple-faced leaf monkey and grey langur.
More than 150 species of birds have been recorded in Yala, including migratory white-winged black terns, curlews and pintails and locals like hornbills, jungle fowl, orioles and peacocks. The bird spotters' Holy Grail here is the rare black-necked stork, of which there are only 10 known individuals in the entire country.
I'll be heading to Sri Lanka in March, hoping to photograph leopards in Yala National Park. I'll also be voyaging out to sea to spot humpback whales and my fingers will be tightly crossed in the hope of seeing blue whales, too. I last saw a leopard lounging in a tree in Zimbabwe in 1982 and dearly hope to catch a glimpse of its Sri Lankan cousin in March. I will be packing a 400mm telephoto lens and a good pair of binoculars.
Exodus Travel will be making a donation to the Australian Geographic Society for every AG subscriber who books a place on the trip, so I hope that you can join me as we go in search of leopards and whales in Sri Lanka.
Courtesy: australiangeographic
Dark Secrets of a Black Beauty
By Malaka Rodrigo
The tragic killing of another black leopard highlights the need for greater conservation
Rudyard Kipling's 'Jungle Book' refers to a black panther, Bagheera. This was really a black leopard and even though Badheera was fictitious, black leopards do exist. But are their days numbered in Sri Lanka, is the question that many wildlife enthusiasts pose.
Another black leopard faced a brutal death in Deniyaya a few days back. Its decomposing body was recovered from a forest patch close to Handford Estate, in the village of Thalapalakanda.
Veterinary surgeon Dr.Tharaka Prasad who conducted the post-mortem said the animal would have died an agonising death after succumbing to internal wounds sustained on getting caught in a wire snare. Poachers had cut off both its forelimbs and a large portion of flesh from its neck area. Even the teeth and claws of the remaining limbs of this black beauty had not been spared.
Wildlife officers were however puzzled that no attempt was made to skin the animal as its coat would have fetched a high price. They believe the animal would have got caught in a trap set for wild boars. But conservationist and leopard researcher, Rukshan Jayawardane who went to the site with Dr. Prasad said the trap may have been set up deliberately to snare the black leopard – or other leopards that frequent the area. He has urged police to find the culprits. There is a local belief that leopard flesh taken from an area that cannot be licked by the animal is good for asthma patients and wearing its claws and teeth a sign of bravery.
Kokila Harindra, wildlife range officer of Kaluthota who was alerted by Deniyaya police said villagers had complained about the stench from a rotting carcass of a leopard. He said the villagers had not spotted the black leopard before. The animal was a mature male leopard about 7 foot long, Mr. Harindra said.
Dense forest: Safer habitat for rare black leopard
In 2009, a black leopard was entrapped in a wire trap in the vicinity of Deniyaya. A few years ago there was was a report of the death of another black leopard in the area of Sinharaja. Dr. Prasad said in the past six years the Department of Wildlife Conservation received reports of 16 leopard deaths in and around Sinharaja.
The fact that of them three were black leopards means there could be more in the area, Dr.Prasad said adding that they were initiating a study on these rare species. Childers Jayawardane, a wildlife officer wrote about sighting a black leopard as far back as 1948 in Yala Block III. He also recalled seeing another black leopard at Banawalkema 30 years later.
However, black leopard sightings have not been recorded recently in the dry zone, and it is believed that the darker environs of a dense forest helps the black leopard to survive, says Rukshan Jayawardane. Pointing out that there maybe more leopards outside the protected wildlife areas he pointed out that conservation programmes should encompass these areas too.
Anjali Watson – a leopard researcher who has studied leopards in the wet zone and the hill country says the biggest threat to leopards in general and the rare black species is the lack of protected areas in the wet zone and hill countries unlike in the dry zone. As a result habitat fragmentation, poaching and indirect snaring can go unnoticed.
She said black leopards even in other countries are found mainly in dense forest areas. The reason being the darker and more secluded habitat of rain forests allow a melanistic leopard to survive more easily and reproduce, passing on the recessive gene of melanism. In the dry zone where the habitat is more open they are less likely to survive into adulthood.
Who are these black beauties?
The black leopard belongs to the same species of leopards found in Sri Lanka, scientifically known as Panthera pardus kotiya. This species has been tagged as 'Endangered' by Red List 2012.
What differentiates a black leopard from a normal leopard is its black coat that is a result of a condition called melanism where the dark-coloured pigment melanin in the skin develops. This is similar to the condition of an albino where the absence of melanin makes an animal lighter coloured.
Zoologists say this is caused by a melanistic recessive gene and on close inspection the usual leopard spots are visible even on a black leopard. Scientists also say two leopards with normal coats have a one-in-four chance of producing a black-coated cub, if both mother and father have the recessive trait for melanistic form. Other big cats such as jaguars who have this melanistic form are commonly referred to as black panthers.
Visitors to parks should not Disturb Animals
Disna Mudalige
All visitors to national parks should restrain themselves and not act in a manner that would agitate the animals, environmental lawyer Jagath Gunawardena said.
Commenting on the shooting at the Yala National Park to chase away a tusker, he said this tusker known as Gemunu had earned a reputation for following visitors' vehicles as visitors were in the habit of feeding it.
He said the public behavior inside national parks must be strictly controlled and monitored, adding that visitors feeding wild animals cannot be recommended. Gunawardena said wild animals should be allowed to enjoy their freedom and roam without disturbances.
Gunawardena said instructions must be given to them on how to act if they encounter a leopard, bear or an elephant within the park. He made these comments responding a question by a journalist at a media workshop organized by the Environment and Renewable Energy Ministry in Kanneliya.
Yala: Possible Solutions to Stem the Damage
By Srilal Mithrapala
August 6, 2013
I have been writing regularly in various journals of late, highlighting the plight that is befalling the Yala National Park. I am very thankful to all the editors of the popular newspapers who have given good publicity to my 'crusade'.
There has been good supportive feedback from many sources, but there have been a few criticisms also that there is no solution suggested by me in some of my more recent articles. On the contrary I have clearly outlined some of the possible solutions that can be speedily implemented in some of my earlier articles ('Yala – ruined by its own popularity?')
Hence, due to the interest level shown and the topical nature of the subject, I have collated some of the earlier writings related to the possible solutions, herein.
Fundamentally, all the problems really boil down from three issues, which are in some way inter-related.
Over-visitation and increased demand
Inability to enforce the park rules by the DWC
Increased level of tourism activity in the area

Over visitation
Fuelled by the post war tourism boom, visitor numbers to Yala have been growing rapidly. In 2011 Yala had close upon 99,000 foreign visitors and 217,000 local visitors (ref. Sri Lanka Tourism Development Authority – SLTDA). The 2012 figures are not yet available, but the total visitation is said to have exceeded 500,000 in 2012. In fact it was reported recently that on 13 February this year, there was an all-time record at Yala with 1,000 foreign and 500 local visitors, bringing in revenue of Rs. 2.6 m for the day.
The safari vehicles and guides/trackers vie for business from visitors for safari rides. It is estimated that there are over 250 jeep drivers operating in the Yala area, most of who have had no experience nor interest in wildlife, but have gone into the business to make a 'quick buck'. Profit margins are high with a single safari driver earning Rs. 4,000-Rs.5,000 per safari of approximately three hours, together with 'handsome tips' for a unique sighting, particularly of leopard.
Inability to enforce

Park Rules
Enforcing drivers and visitors to obey the rules strictly within the National Park comes under the purview of the DWC. However, they are unable to implement most of these rules due to various reasons such as lack of interest and motivation of staff, political interference, poor management, lack of resources, etc.
Without the DWC being given a free hand to strictly enforce these rules, it is quite impossible to safeguard the sanctity and environment of the park properly.
Recently a DWC official was on record appealing for help, to save a large tusker in the Sigiriya-Minneriya area from a gang of poachers who have been stalking him for some time. The official said that he had no resources available with him, including fuel, to mount a search operation for the poachers! Given the recent findings of the Committee on Public Enterprises (COPE) about the gross mismanagement in public enterprises, it is no surprise that the DWC operates at this scale.
As Jayantha Jayawardene, who has authored several books on Sri Lankan elephants, so aptly puts it, the DWC has ceased to be an organisation which is there to protect animals. Its function now is to protect the people and politicians!

Tourism

With the rapid growth of tourism in the past three years and wildlife tourism also gaining popularity in Sri Lanka, the number of tourists to the area has also increased together with new hotel developments. The SLTDA statistics reveal that of the 855,975 tourist arrivals to the country in 2011, 198,536 visited the national parks (23%). The numbers for 2012 are still not available officially but given that arrivals to the country rose to one million, total Yala park visitation should be in the order of 500,000.
Hence, while it is clear that while Sri Lanka is not and never will be another Kenya, wildlife tourism is certainly playing an increasingly important role in Sri Lanka's tourism offering.
Over the years, the leopard population in Yala has grown and today it numbers close to about 50 leopards habituating a very small area of the park. This fairly healthy population, a large number of who have grown up accustomed to human and jeeps, now enable visitors to have a very good chance of a leopard sighting during a game drive in the park.
This single aspect has been the main cause of the drastic increase in visitation, leading to the current situation. Sri Lanka is beginning to be called a leopard haven, due to these relatively easy sightings of leopards.
What then are the possible solutions to mitigate these issues and bring some form of sanity back to this pristine and popular National Park?

Solutions
Strictly enforce park rules: The simplest and most obvious solution. There are very good park rules that are promulgated, and which can be enforced, even by law. However, we all know that Sri Lanka has no shortage of rules for everything. The problem is in the enforcement and implementation of such rules.Punish offenders by suspension: This is simply an extension of enforcing the park rules very strictly. Offenders must be punished appropriately without favouritism or any form of patronage to interested parties. Tourism operators themselves can help by refusing to hire bad/blacklisted drivers.Ensure no interference by 'outsiders' with DWC: While we can certainly point fingers at the DWC and blame them for the sorry state of affairs, political interference is a common malady affecting all Government departments today, and the DWC is no exception. Commitment by the senior personnel in the Department can help to mitigate this problem somewhat.
DWC to set up mobile patrols within the park: Mobile patrols inside the park, very much like a mobile police patrol car, can be an effective deterrent. This initiative has been implemented now in association with DIMO, Environment Foundation and Cinnamon Wild).
Educate and create awareness of the dos and don'ts of the park: Educating and create awareness among all visitors will bring pressure on drivers to behave properly. Hopefully the visitors themselves will discourage bad behaviour by showing their displeasure when 'tipping'.
Limit visitation (carrying capacity): There should be a maximum number of jeeps allowed at any given time inside the park. Most well-managed wildlife parks have such a system in place, where the 'overflow' has to wait patiently at the visitor centre until the appropriate umber of vehicles exit from the park
Ban large buses from entering the park: Some of the biggest offenders are large Sri Lankan groups on pilgrimage who stop over for a quick 'look around' the park. The large, badly maintained buses that these groups use, belching large volumes of smoke from exhausts, cause great damage to the environment of the park.
Have scheduled tours operated by DWC: One way to circumvent the over-visitation issue is to have DWC operate a mini-observation coach which can carry groups or 25 people or so, undertaking well guided and scheduled tours according to a timetable, into the park. Large groups of visitors can be accommodated in these tours.
Introduce and maintain 'one way' roads: To ease some of the overcrowding of certain popular areas for wildlife viewing, some form of one-way roads within the park can certainly help.
Open up alternative entrance to reduce bottle necks (Heenwewa): To ease the bottle neck and rush at the entrance, possibly opening up another entrance would help.
Ensure that park is closed during drought- during the severe drought months of September and October there is great stress on the animals as their food and water sources dry up. It is important not to add to this stress with visitors and it is always good park management practice to shut down during such periods to allow the flora and fauna to recuperate (according to press reports the park will be closed in September this year, which is a very welcome sign).
Surcharge for vehicles with poor load factor (one or two passengers): Tourism operators should offer single or twin guests the option to double up with others to increase the load factor per vehicle. Otherwise there should be a surcharge for the entry ticket.
Surcharge on entry ticket prices during peak periods: This is a strategy that can be used to ensure that there is a more even distribution of visitors right throughout the day. Although wildlife sightings are less during the noon hours, one can still view a reasonable variety of birds and animals.
Have well trained trackers in each vehicle: There should be an adequate cadre of well-trained trackers to accompany visitors in each park to meet the demand.
Move away from being leopard centric and publicise other diversity in Yala: Environmentalists, wildlife enthusiasts and tour operators can downplay the leopard and the guaranteeing of a sighting and promote the other diverse attractions of the park.
Promote other national parks as an alternate to Yala (to tourists): Tour operators can promote other wildlife parks to the general tourist, who is not a hard-core wildlife fan.
Capacity of tourist hotels in the area: Proper zoning and planning, with carrying capacity assessments has to be done for tourism development. It is said that there will be eventually about 700 rooms in the area (currently there 505 rooms in star class hotels and guest houses; another 195 have been approved according to sources, which will take the total up to 700 rooms – the SLTDA is very tight-lipped with these statistics, and safeguards such information like some top secret data! So much so for right of information!). 700 rooms at 50% occupancy will result in 350 visitors at any day in the area. If just 35% of them visit the park, over 120 people will be entering the park every day only from this segment!

Conclusion
Therefore, it is quite evident that there are a number of possible solutions to this problem. It is true that there is no 'one-quick-fix' but all of the above will in some way help mitigate the problems.
It is also evident that although most of the responsibility for this situation rests fairly and squarely on the DWC, it will be a pipedream to expect that they will be able to 'put their house in order' in the short term.
It is important therefore, that all stakeholders put their 'shoulders to the wheel' to help in any way they can, to mitigate the ongoing problems.
Hit And Run Vehicle Kills A Leopard In Yala
By: MALAKA RODRIGO
Sunday, 06 November 2011
The Sunday TImes
The carcass of a young leopard was found near Patanangala on October 22, around 6.a.m. by a group of wildlife enthusiasts who had set out early to get a glimpse of the morning wildlife.
The body had not been touched by predators and was still warm at the time it was found with a wound visible on its side, raising suspicion that it could have been killed by a wild boar attack. However, the carcass was sent to Udawalawe for a post-mortem and it was revealed that the leopard in fact had been killed by a speeding vehicle inside the park.
The veterinary team that conducted the post-mortem found that the leopard's ribs were smashed and its lungs damaged. Dr.Vijitha Perera who headed the team said that kind of injury could only be caused due to a collision with a speeding vehicle.
Leopards are the key attraction at Yala and sometimes it is overcrowded by tourists who visit the park mainly to get a glimpse of the elusive big cat. The tourists often spend long hours in the park to maximize the opportunity of leapord sightings. However, since there is a rule that vehicles should leave the park at 6.30 p.m., some vehicles make a last minute dash speeding towards the exit just in time. Wildlife officials believe that one such vehicle could have been the culprit behind this hit and run tragedy.
But the fact that the leopard was found in the morning with its body still warm and untouched by predators such as mongoose and not even covered by ants, has many wildlife activists believe that the fatal accident would have happened just a couple of hours before it was discovered in the morning. "If it happened in the morning it won't be difficult to trace those responsible as only a few vehicles are usually found in the park that early," Rukshan Jayawardene of the Leopard Trust said.
Pointing out that the leopard was a young female around six months old, Mr. Jayawardene said losing a female in Yala endangered the species more than when losing a male. A male leopard mates with several females so the death of a female means losing about several cubs for Yala.
He said the Department of Wildlife Conservation (DWC) should launch an investigation to find the culprits and to impose strict regulations about speed limits to curb such tragedies in the future.
It is well known that over-visitation is a huge problem at the Yala Park, especially since the end of the war. On some long weekends, there are over 150 vehicles driving visitors into the park. However due to the limited number of trained wildlife trackers it is difficult to assign a tracker for every jeep thus leaving room for reckless behaviour by visitors, wildlife activists point out.
Most of the visitors' main aim is to see as many wildlife as possible and sometimes at their insistence the trackers are forced to comply resulting in speeding vehicles and traffic jams.
The increase in the number of enthusiasts whose main hobby is to click a leopard has also aggravated the situation. This hobby has its downside especially with the popularity of Facebook where photographs are shared encouraging others to take their own leopard shots. This has has already driven away genuine wildlife photographers. "We no longer visit Yala," said wildlife photographer Namal Kamalgoda who was a fan of Yala about a decade ago. He said many wildlife lovers like him have stopped visiting Yala and are looking at other prospects.
Yala is also being promoted as a tourist destination by the Tourism Promotion Bureau. But wildlife lovers say that even foreign tourists would stop going to Yala if there isn't a check on the unruly behaviour, mainly of local tourists.
Wildlife biologist Manori Gunawardane says the tourism industry should impose self regulation to control the situation in national parks like Yala. Simple measures such as not to employ a jeep driver who misbehaves too can make an impact say conservationists.

She said many jeep drivers and tour operators have not understood the real meaning of a wildlife experience and believe that it only boils down to taking a photograph of one wildlife sighting and then rushing to another. She also said targeting some parks as safari sites for one species or another has also endangered the tranquility of these nature reserves.

Commenting on over-visitation, DWC Director General H.D.Ratnayake said that they are opening other wildlife spots to ease the pressure on the popular sites. He said measures have been taken to strengthen the existing rules regarding speeding vehicles with moves to cancel the licences of those who do not adhere to the speed limits. He also said investigations are being carried out on the death of the leopard.
Sri Lanka Tourism 'Wild' poster wins top UNWTO award
[October 27 2011]
Sri Lanka Tourism took top honours in the 2011 United Nations World Tourism Organisation (UNWTO) poster competition, becoming the winner for the 'Best Tourism Poster' award in the South Asia region.
The Vettor Giusti tourism poster competition is held every two years on the occasion of the sessions of the UNWTO General Assembly and provides an opportunity to showcase the creativity and beauty found in the posters used to promote tourism in each country.The Vettor Giusti tourism poster competition is open to all the Member States of the UNWTO and is channelled exclusively through their national tourism administrations. Sri Lanka is full member of UNWTO from its inception. Each member country was invited to submit one poster. During the 19th session of the General Assembly in Gyeongju, Republic of Korea, in October 2011, the winners were announced.
The poster developed under the new tagline for 'Visit Sri Lanka' – 'Refreshingly Sri Lanka,' the word is apt considering the brand new Sri Lanka Tourism showcase to the world.
To promote eight segments, Sri Lanka Tourism has identified symbolising the eight letters in 'Sri Lanka' since the island has eight wonderful experiences which tourists can enjoy within eight days.The eight segments are pristine, heritage, bliss, thrill, festive, essence, scenic and wild, which are represented by eight colours of the logo, with a colour for each segment.One of the key segments Sri Lanka Tourism wants to promote is 'Wild' to highlight the wildlife assets in Sri Lanka. The winning poster showcased the Sri Lankan leopards.
At the venue of the General Assembly, the top five most voted posters of each region were displayed. The winning posters will be posted on the UNWTO website until the next edition of the Vettor Giusti poster competition at the 2013 General Assembly. Furthermore, the winning posters will be on display in the entrance hall of the UNWTO building in Madrid until the end of the 2013 General Assembly.
The Sri Lankan Leopard is a safari lover's delight
The Sri Lankan leopard (Pantheraparduskotiya) is one of the nine known leopard subspecies native to Sri Lanka. Their population is believed to bein decline due to numerous threats from poachers and human-leopard conflicts. Despite these setbacks, the animal is highly adaptable and is able to live in close proximity to human settlements. A recent study has shown that Yala National Park, where Eco Team (Pvt) Ltd have located their luxury tented safari camps – Mahoora, has one of the highest recorded densities of leopards in the world. Senior naturalist of eco team Delan says not like in other countries Sri Lankan leopards doesn't have any threats from other predators. There for most of the time they feel free to go out for hunting during the day time than night and this is a unique feature of Srilankan leopard behaviour. Due to that most of our Mahoora clients at least spotting three leopards at one safari ride. so most of our camping and safari customers are delighting.
"Yala – God's patch of land for leopards"
says world renowned wild life Celebrities Jonathan & Angelina Scott
"If ever God created a patch of land for the leopards in this world, it must be Yala National Park in Sri Lanka" said world renowned wild life celebrities Jonathan and Angelina Scott,to the audience, of a special event held to present their work on leopards at Cinnamon Lakeside Hotel on 9th July. Expressing their views on this Jonathan and Angie Scott further said that "In other wild life parks around the world, leopards are under threat from predators like lions and hyenas. But in Sri Lanka they don't face such a situation; they are free to move about and are more secured in the wild than other leopards in the world." John Keells Hotels together with Nations Trust Bank and American Express organized the event held for Jonathan & Angie Scott to present their work and share with the audience their latest filmabout the secretive leopard, shot in Africa. Sri Lanka's Yala National Park is recognized as having one of the highest densities of leopards in the world and this comment made by Jonathan and Angelina is certainly going to compliment this position held by the national park.
Mother leopard's fate still a mystery
By: HIRAN PRIYANKARA JAYASINGHE
Sunday, July 17, 2011
The Sunday TImes

The mystery surrounding the discovery of three abandoned leopard cubs in the Tabbowa forest reserve in the Karuwalagaswewa area continues, with reports that the mother may have been killed.
Wildlife officials called off an investigating when they were told that they would not be allowed search a politician's residence. The cubs were brought in a box to the Wild Life Rangers' office by the Karuwalagaswewa Pradeshiya Sabha chairman. It was said the cubs were rescued when attempts were made to sell them for Rs. 500,000.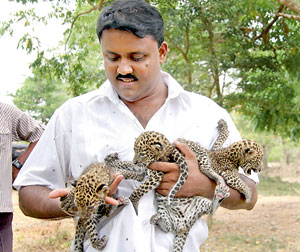 Orphaned cubs readily attract foster parents.
The three-month-old cubs had not been fed for days and were moaning when they were handed over to the WildLife Department veterinary surgeon, Chandana Jayasinghe. No queries were made about the whereabouts of the mother, and her fate remains a mystery
"Under normal circumstances, wildlife officials take legal action against trespassers who enter the reserve. In this case, no one has investigaged how the cubs were found," said Dayantha Gamini, a villager.
It is feared that the mother may have been killed before the cubs were rescued, he said. "The missing mother is a mystery, as usually cubs are protected by the mother who in this case might have been killed by the poachers or died under other circumstances, such as getting caught in a snare. The subject is a matter of speculation," another villager said.
Villagers suspect the mother was killed, while others speculate that a politician might have been behind the killing of the mother leopard.
The Pradeshiya Sabha chairman told wildlife officers that the team that had found the cubs had gone into the forest reserve in search of bees' honey. WildlLife Conservation Department director Chandrawansa Pathiraja was not available for comment.
Rescued leopard cubs in safe hands
By: DHANESHI YATAWARA
Sunday, July 10, 2011
Sunday Observer
The three leopard cubs rescued from an illegal trade in Karuwalagaswewa in the Puttalam district recently was not just news but a miracle that took place with the blessings of nature.
If the cubs were born two and a half months ago then July 1, the day they were handed over to the Wildlife authorities would be their second birth escaping a tragedy.
Today the three little cubs, all females are in the loving and caring hands of the veterinarians of the National Zoological Gardens, Dehiwala.
Fate of cubs
Like their mother if they grow up in the wild they could have given birth to more cubs to extend their family. Yet caught in the iron clutches of animal poachers the cubs were about to be sold at a high price through animal traffickers. Yet the fate of the little cubs was not so unfortunate .
If elephants are the flagship species of Sri Lanka, leopards would be our strength and superiority. Roaming in the thick jungles leopards attract local and foreign wildlife enthusiasts to the wilderness in search of this precious species of the country. Saving the lives of the three leopard cubs early this month was a miracle for Sri Lanka which is endowed with rich bio-diversity.
Karuwalagaswewa, the area where the cubs were to be illegaly traded borders Sri Lanka's largest wildlife sanctuary, the Wilpattu National Park. Wilpattu is globally renowned as one of the two Sri Lankan wild life parks for this magnificent creature. The other location is the Yala National Park. For the leopards, right to live safely in their natural habitats is crucial for their survival.
"When we received the cubs we assumed they could have been away from the mother for few days less than a week. Luckily, they were slightly dehydrated and they recovered well responding to our treatment," said Veterinary Surgeon, Chandana Jayasinghe of the North Western Wildlife region office of the Department of Wildlife Conservation.
The cubs find it difficult to suck milk from the bottle as from their mother. According to veterinarians it could have been a struggle to raise them in a domestic environment since the cubs were more used to the natural environment. "To raise these cubs special treatment and care by professionals are vital and essentially the veterinarians or the animal caretakers should be 100 percent skilful to treat these wild animals," Jayasinghe added.
Since the Zoological Garden in Dehiwala is equipped with facilities to meet such a challenge the Wildlife Department handed over the three cubs to the veterinarians of the zoo. The cubs are a lucky triplet.
The question is how could a priceless wildlife treasure be priced? It is a national treasure and definitely not a personal wealth. The uniqueness of this event is the number of cubs. "We rarely see a leopard mother with three cubs. Mostly we have rescued either one or two cubs," Jayasinghe explained. The leopard mother would have never thought that her uniqueness would bring tragedy to herself and her cuddly little babies. According to animal experts a leopard mother would not leave her cubs and she could be aggressive if the cubs are in danger. A poacher must kill or trap her in order to take the cubs. The trapped leopard mother will be killed for her beautiful skin.
Predator at risk
Across the globe this agile and stealthy predator lives in a variety of habitats including evergreen monsoon forest, arid jungle, low and upper highland forest, rainforest, and wet zone intermediate forests. According to the present nomenclature only nine sub species of leopards are found in world. The Sri Lankan leopard, Panthera pardus kotiya is unique among its own species. Since Carl Linnaeus published his description of leopards in the 10th edition of Systema Naturae in 1758, as many as 27 leopard subspecies were subsequently described by naturalists from 1794 to 1956.
In 1996, according to DNA analysis carried out in the 1990s, only eight subspecies are considered valid. Later analysis revealed a ninth valid subspecies, the Arabian leopard. As scientists believe, because of limited sampling of African leopards, this number might be an underestimation.
The nine subspecies recognised by IUCN are, African leopard which inhabits the sub-Saharan Africa, the Indian leopard that inhabits the Indian subcontinent, Javan leopard inhabiting Java, Indonesia, Arabian leopard which inhabits the Arabian Peninsula, Amur leopard which inhabits the Russian Far East, Korean Peninsula and Northeast China, the north Chinese leopard inhabiting the northern China, Caucasian leopard which was later described as Persian leopard which is found in central Asia: the Caucasus, Turkmenistan and northern Iran, the Indo-Chinese leopard that inhabits mainland Southeast Asia and last but not the least the Sri Lankan leopard.
Transition point

Veterinary Surgeon Chandana Jayasinghe examins a cub
With South Asia identified as transition point for illegal animal trade more threats emerge for these spotted beauties making their lives harder. "To protect the leopard population it is essential to keep them within the forest reserves which we are preserving for the animals," said Dr. Chandrawansa Pathiraja, Director General of the Wildlife Conservation Department. By repairing the existing tanks and building new minor tanks we are making water more abundant for the animals even during the drought. This is important as animals tend to move to water abundant areas that are outside the forest reserve. Thus they are prone to danger", Dr. Pathiraja explained.
Maintaining ecological balance is important for the survival of these carnivores, he added. According to the Director General the Department is taking steps to provide fodder for herbivores identifying the typical grasses and plants they prefer. Saving every animal in the wilderness is crucial for the survival of these top predators.
This endangered stealthy predator needs healthy animals in the forests as the maintenance of the food chain is vital for the survival of the forest eco system.
With peace restored especially in the Northern and Eastern provinces it is essential to educate the resettled communities on how to raise their cattle, grow crops and carry out their livelihood activities without disturbing the natural habitats of the wildlife. Through the eyes of the little cubs understand the fate of their mother and their entire brood. Every citizen is duty bound to protect this unique wealth of the nation.
Three leopard cubs rescued
By: Malaka Rodrigo
Saturday, July 3, 2011
The Sunday Times
Three orphaned leopard cubs found near Wilpattu have been handed over to the Karuwalagaswewa wildlife range office, in the Puttalam district. The cubs are all female, and about two months old.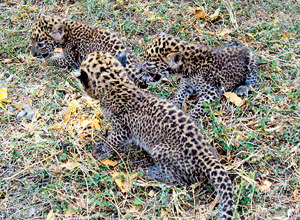 The three cubs frolic outdoors
According to sources, the cubs had been put up for sale when the chairman of the Karuwalagawewa Pradeshiya Sabha intervened.
The leopard is a protected species, and under the Flora and Fauna Act it is illegal for any person to keep a leopard in his possession. Panthera pardus kotiya is unique to Sri Lanka and is an endangered species.
The leopard cubs were found in the Tabbowa-Kaluwaragaswewa sanctuary about three days ago. Villagers believe the mother leopard may have been killed by hunters, or the unprotected cubs may have been removed when the mother was away hunting for prey.
The cubs are now in the care of Dr. Chandana Jayasinghe, Wildlife Department veterinarian for the North-Western Province. The Department of Wildlife Conservation will hand over the cubs to the National Zoological Gardens.
Another hill-country leopard bites the dust
By: MALAKA RODRIGO
Sunday, June 19, 2011
The Sunday Times
Villagers' warning letter to Wildlife officers 5 days before goes unanswered
Snares have killed a number of Nuwara Eliya leopards in recent years and these death traps' latest victim was reported from Pedro (Pidurutalagala) on June 13. This leopard was caught in the wire trap set up at the edge of the Pedro Forest Reserve, less than 500 metres from the Nuwara Eliya police station, according to eyewitnesses. The trap's wires had tightened across the leopard's belly when it attempted to break free, causing internal injuries to its vital organs, ultimately killing the beautiful animal.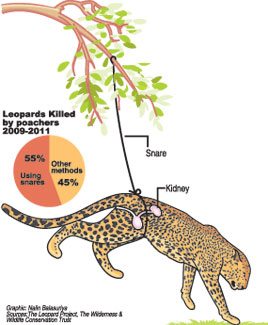 Snares have become the worst death traps for hill-country leopards, but this was a preventable one, if Wildlife officers had taken prompt action, point out environmental activists. The incident had taken place at Gemunu Mawatha village bordering the Pedro Forest Reserve. Villagers enjoy sighting many animals that cross into their village, but in recent months, poaching has increased in the area even resulting in the death of a pair of rare barking deer, which were frequent visitors to the village, and of rabbits trapped in snares.
Even the villagers' dogs have got entangled in these wire traps which mainly target wild boar. Therefore nature-loving villagers of Gemunu Mawatha Nature Society had sent a letter to the Wildlife Minister S.M. Chandrasena and the Department of Wildlife Conservation (DWC) to take immediate action to stop this rampant poaching. In the letter sent on June 8, it was highlighted that wire traps used by poachers posed a serious danger to the leopards living in the Pedro Forest too.
But no action was taken, and five days later, on June 13, their worst fears came true. The villagers even named the two poachers who are active in the area and the villager who supports them, but still no action has been taken to date. "It was indeed preventable, if action was taken immediately," said Dr. Janaka Gallangoda of the Nature Exploration & Protection Society of Nuwara Eliya (NEPS). These poachers are also said to have settled in an area of the Pedro Forest, which is a high security zone where the main Rupavahini Tower is located.
Dr. Gallangoda said that the illegal meat trade was thriving in Nuwara Eliya, indicating that poaching activities were on the rise. Trap guns and hakka patas (devices that explode in the mouth) are usually not used in Nuwara Eliya, due to the wet conditions.
Hence, snares and electrocution have become the main tools of killing animals – mainly wild boar and Sambur. Snares are cheap to set up and are therefore popular among poachers. Three-wheeler brake cables are used to set up these wire traps.
Activists point out that WildLife officers or Police could easily trace the culprits on this evidence, but inaction by the law encourages poachers to continue with their illegal activities. Meanwhile WildLife Department Director General Chandrawansa Pathiraja said that information regarding the Nuwara Eliya leopard's death had not reached him to date.
He said if the incident occurred only about 500 metres from the town, the leopard's death should have been notified to the WildLife regional office and it is indeed a matter to investigate why no action has been taken so far.
Second Leopard shot dead in Giritale
Another large leopard was shot dead in Giritale Wildlife Sanctuary, making the number of big cat casualties of the week to two. The leopard is said to be a 7-foot long large mature beast. Two suspects have been arrested and the leopard's carcass sent to Giritale for the post-mortem. According to regional reports, the poachers intended to sell the leopard's skin for a large sum of money.
SRI LANKA: YALA NATIONAL PARK
By: DANEL NIELSON
Saturday, January 8, 2011
Daily Mirror
Once off-limits to visitors, Sri Lanka's Yala National Park is today a place of natural wonders.
Every flick of the leopard's tail and canine-flashing yawn is met with a flutter of camera shutters. Vying for the best view of the nonchalant feline are tourists packed into seven jeeps.
The leopard, seemingly fully aware that he's at the top of the food chain, seems to be enjoying the attention. After 20 minutes, he stands up and, just like a domestic tabby, stretches, yawns and then wanders off into the thorny scrub jungle of Sri Lanka's Yala National Park.
The jeeps move on in search of elephants, crocodiles and buffalo. And, even better, crocodiles munching on buffalo.
The Sri Lankan leopard (Panthera pardus kotiya) is a subspecies endemic to the Asian country. Yala National Park has what is thought to be the highest density of leopards in the word, despite them being classified as endangered. In recent times, it's the tourists who have been scarcer.
In May 2008, the British Foreign & Commonwealth Office (FCO) advice read: 'We advise against all travel to Yala National Park and the areas around it following a number of serious security incidents in the park in October and November 2007 and attacks in January 2008 close to the park.'
Advice for the rest of the country, especially the north and east, was even more inauspicious, warning of a high threat of terrorist attacks from the Liberation Tigers of Tamil Eelam (LTTE) - known to everyone as the 'Tamil Tigers'.
By the time I arrived in Sri Lanka in October 2009, the president, Mahinda Rajapaksa, had announced the conflict between the government and a Tamil faction seeking an independent state was over, after the Tamil Tigers' leader, Velupillai Prabhakaran, was killed on 18 May.
Before long, the FCO had retracted its warning about travelling to Trincomalee in the Tamil region of the north east and Yala National Park on the south coast. Sri Lanka's most visited tourist attraction was open again.
On a hot, humid evening, after a successful day watching leopards and crocodiles eating buffalo, I have a candid chat with Ranjith Katugampala, the general manager of the Yala Village Hotel.
'Until August 2007, this hotel was booked out by [mostly British] tourists. Then in September they closed the park after some terrorist problems,' he says.
The LTTE had skipped around the east coast and landed on the beach near Yala National Park, killing villagers and setting up home in the 100,000-hectare reserve, thus gaining a foothold in an area largely untouched by violence. But the manager's problems were short lived; by August 2009 the lodge was 60 per cent full. Crucially, many chefs and hotel professionals have returned from abroad, and the wildlife does not seem to have been significantly affected. And nor was it during the 2004 tsunami.
On the beach that day, my driver recalls seeing buffalo and leopards sprinting away from the sea some 20 minutes before the waves hit. 'I thought it was an LTTE helicopter attack at first,' he says. 'Then I thought the world was ending.' For 16 of his colleagues and 31 tourists it was.
Despite these natural and man-made disasters, Katugampala (who climbed up a tree to escape being swept away by the tsunami), like most others in the tourism industry, is confident. 'Everyone had a hard time and people lost jobs, but now the travel ban has been lifted, we are doing well again.'
'It is looking good now,' he says. 'Our bookings for 2010 were almost back to normal.' But, also like others, he doesn't deny it will be tough to attract tourists back in numbers.
After I cleared immigration at Bandaranaike International Airport, a sign greeted me: 'Just arrived in the land of -- miracles', the penultimate word covered in a patch of paper sellotaped to the poster. We later learned that the president himself had demanded the word 'small' be covered up on all tourism literature. 'It's more than a small miracle,' he argued, allegedly. He was right.
The marvellous story of this tear-shaped, some say pear-shaped, island, linked by a thread of limestone shoals to India, is replete with myths of kings and concubines and legends of medieval merchants finding such a vast wealth of spices and gems that the Sanskrit word for Sri Lanka, Swarnadip, became the word 'serendipity'.
Colonial forces, recognising the natural resources of Ceylon, as it was called until 1972, and the deep port of Trincomalee, described by British Admiral Horatio Nelson as 'the finest harbour in the world', began a succession of Portuguese, Dutch and then British rule in the late 18th century.
One British castaway, Robert Knox, captured by the king in 1659, spent the next 19 years in exile and wrote of the island: 'Its soil is rich beyond description; its forests abound with timber; its mountains are believed to contain mineral treasures of the most valuable kind; and, it is certain, that no country in the world can rival the fragrance of its cinnamon, and the beauty of its ivory.'
The first stop on my tour of Sri Lanka began with a precarious climb up to a fantastical place with an unparalleled view of this rich domain: Sigiriya, or Lion Rock. As the centrepiece of the so-called Cultural Triangle in the centre of the island, Sigiriya is one of seven Unesco World Heritage Sites in Sri Lanka.
Through head-high lion claws carved at the base of the rock, a rickety iron staircase climbs around the overhangs and rocky undulations to a flat 1.6 hectare summit. Walls are decorated with remarkable fifth century frescoes of voluptuous, scantily clad 'heavenly maidens'.
On top are the remains of a palace, carved out during the reign of King Kashyapa I between AD 495-477. The king buried his father alive and killed his brother, who was heir.
Looking down from up here, Sri Lanka flourishes all around. It is the country's very own Shangri-La. No wonder King Kashyapa hardly ever left (although that might have something to do with the 500 concubines he kept on the rock). And from this height, it is impossible to imagine any conflict.
Yet, driving later that day to Trincomalee in the north east, until recently a no-go area, the high military presence is testament to a time of troubles.
The frequency of sand-bagged roadblocks increase to every 100 metres as we approach the city and I spot the motto 'When the going gets tough, the tough get going', painted on a wall. The city of Trincomalee, which also lends its name to the district, was the scene of some of the fiercest fighting between government forces and the Tamil Tigers.
On the way to the Hindu temple, said to have been a sacred Hindu shrine for more than 2,500 years, my guide tries to explain the origins of the conflict.
The majority of the country's 20 million population (73 per cent) are Buddhist Sinhalese, thought to have arrived from north-west India around 500BC.
The mostly Hindu Tamil minority (around 18 per cent) arrived from southern India in the 13th century. Over the next few centuries, some Tamils wanted to create their own independent state.
The power struggle between the two groups varied from high level politicking to jungle warfare and, finally, full-scale conflict in the 1980s.
Government soldiers, fingers on the triggers of AK-47s, watch as Tamil Hindus climb up to the temple to receive a blessing and tie a ribbon around a tree in hope. They stop and look out on the Bay of Bengal as a fishing trawler pulls in far below the temple to make an offering.
I spend the rest of the afternoon wandering around the food markets of 'Trinco'. They haven't seen tourists here for years and the locals are keen to chat. The Tamils, favoured government officials of the British, retain the influence of the 133 years of British rule as much as the Sinhalese.
Market sellers stop to talk cricket in heavily accented, but grammatically correct English, smattered with 19th-century idioms. A slight wobble of the head finishes every exchange.
After a long drive over the cold and misty highlands, dominated by tea plantations, my trip finishes in Galle (pronounced 'Gaul') in the southeastern corner of the country. It is very different to Trincomalee. Tourism may have faltered here, but it has been the quickest to bounce back.
Five star hotels, such as Galle Fort Hotel, Amangalla and The Sun House, attract sun-seekers and honeymooners looking for luxury at competitive rates. It is also the country's cultural centre, with a literary festival held in 2010 that attracted authors such as Ian Rankin and Antony Beevor.
The main attraction in Galle is the fortified old colonial city. I sit on the wall to eat kadala, a fiery mix of chickpeas, chillies, curry leaves, onions and coconut, eaten from a newspaper cone. The locals milling around smile knowingly as my eyes water.
The full moon shines in the sky, lighting the city walls. A full moon means Poya day, a Buddhist holiday. Children play cricket on the greens, while teenagers leap from a height of 20 metres into impossibly narrow pools among the rocks. The ubiquitous tuk tuks zoom around ox-pulled carts. A cream Morris Minor drives past, headlights illuminating the lighthouse. Then a sudden warm rain shower scatters the crowds.
As the sun rises early on my last morning in Galle, I wander down to the beach where Sri Lanka's famous stilt fishermen go about catching their lunch. They smack the rough Indian Ocean with fishing rods, occasionally hooking a nibbler.
A couple of bleary-eyed tourists snap photos at this ancient fishing method. It is as tenacious as it is traditional. The ever-positive Sri Lankans appear to have overcome terrible obstacles to protect this beautiful island and share it with visitors, and they continue to do so, but it will take more than serendipity. (CNN Traveller)
Black leopards in Yala
Childers JAYAWARDHANE
Tuesday, 26 May 2009
Daily News
Many years ago black leopards were seen in the Yala jungles and it is quite possible that the progeny of the melanin gene animal is still found in the Yala group of reserves.
In 1951, I was a trainee Game Ranger at Yala. K.G. Uparis, one of the Game Guards, who many and old timer and jungle enthusiast to Yala knows, related to me of him seeing a black leopard near Banawalkema in the Yala North Intermediate Zone, (YNIZ) (Present Yala National Park block III, then, a shooting block).
In 1948, Uparis was assigned to supervise the clearing of the boundary track from Rugamtota to Kalugaltota, separating, the Yala Strict Natural Reserve (SNR) from YNIZ. He and the contractor had pitched camp at Banawaltota.
On morning Uparis loaded a buck shot cartridge to his shot gun and walked a short distance along the cleared track from camp to shoot some jungle fowl, when he came upon a black leopard, behind a bush intently looking in the direction of a herd of spotted deer grazing in a small glade.
He was surprised to see such a specimen and stopped in his stride. Somehow this attracted the animals attention, who looked at Uparis, stared and snarled at him, looked again at the deer and began belly crawling, towards the herd.
Uparis being alone and unwilling to confront or disturb a hungry leopard, with buck shot, made way backwards slowly and got away from its presence.
This region is in the Dry Zone of Sri Lanka. Here the vegetation is of a high closed canopy with a few open glades, ridges and outcrops with rock pools.
Many years later (almost 30 years) when I was in charge of the entire Yala Group of National Reserves, I had the opportunity of travelling many a time through this same region, where the black leopard was seen and approximately four miles away from Banawalkema at Godawalipokuna (Mahawewa) in the linch to one map (topographic map). I was fortunate to see a black leopard crossing the jeep track ahead of the vehicle and move away into the forest.
Tracking the Lankan Leopard
By Andrew Kittle

In the past few weeks I have been reminded of the nation's fascination with the leopard. This is no surprise given that it is stunningly beautiful, the island's top predator and only big cat.
Together with my wife I have been studying the species here since 2001, but close proximity to a subject can bring with it a lack of perspective and it has taken the immense interest garnered by the recent sad death of a black leopard near Sinharaja to shake me from my lassitude regarding remembering the importance that people attach to this magnificent carnivore while also recognizing the widespread misinformation that exists regarding its ecology and behaviour. Incorrect information is potentially more damaging to the future conservation of the species than a lack of information and as such I wish to offer some opinions, clarifications and ideas.
Having addressed a number of issues related to the genetic status of the species in a couple of published responses to the commotion surrounding the black leopard (The Sunday Times 08/03/09 and Daily Mirror 10/03/09) I will not re-trace those steps. However it is worth re-iterating the basic context within which the leopard exists, generally and here in Sri Lanka.
Young male leopard on top of Kotigala rock in Yala, Block I. Sub-adult and young adult male leopards are the most visible sex and age classes.
Leopards are the most geographically widespread large felid, existing throughout sub-Saharan Africa; in pockets in Iran, Israel, the Saudi peninsula and the Caucasus; through Pakistan, India and China; in far-eastern Russia; and throughout tropical south Asia. Sub-Saharan African leopards are considered "of least concern" from a conservation perspective but Asiatic populations are all considered "endangered" and listed under the Convention on the International Trade in Endangered Species' (CITES) Appendix I, barring all trade in the animals and their parts. Paradoxically, the Sri Lankan IUCN has listed the local leopard as "vulnerable" (one category better off than "endangered") in their latest Red Listing (2007).
Extremely adaptable, solitary carnivores, leopards can subsist on a wide range of prey and live in close proximity to humans. They are presently distributed throughout Sri Lanka with the exception of portions of the densely populated southwestern wet zone and thin coastal strips along the East, their range encompassing a variety of habitats including montane forest, tropical rainforest, dry evergreen forest and arid zone scrub. Leopards exist even outside protected areas using plantation lands, riverine forests and "empty" or scrub land to move through and occasionally reside within. Despite this wide distribution, the Sri Lankan leopard (Panthera pardus kotiya), one of eight distinct genetic sub-species (Miththapala et al. 1996), is under increasing threat from habitat destruction, forest fragmentation, trapping and hunting. The black leopard recently found ensnared near Deniyaya, the young female shot near the Yala main gate three weeks ago and the animal shot in Lunugamvehara the following week exemplifies this type of threat, one that is clearly all too common.
Sri Lanka is home to the only leopard population known to have evolved as the top predatory carnivore in its ecosystem, having been isolated from competition with other large carnivores at least since Sri Lanka split off from the Indian sub-continent --5,000-10,000 years ago. Evidence indicates that the Sri Lankan lion (Panthera leo sinhaleyus Deraniyagala, 1939) became extinct in the region ca. 37,000 years ago and the most recent tiger fossil evidence is dated to 16,500 years ago. As the lone top carnivore in the system, the Sri Lankan leopard could have some behavioural and/or ecological traits different to other populations undergoing competition with dominant carnivores (ie. tigers, lions, hyena clans and dhole packs).
Our two-year study in Yala National Park indicates that the Block I population lives at a relatively high density, exhibits fairly small home ranges, are more active at night than in the day and are seen in social groups more often than other populations – typically mothers with cubs and courting pairs. The high density and small home ranges, while consistent with expectations given a lack of dominant competitors, appears influenced more by high prey availability whereas primarily nocturnal activity is typical of leopards, with diurnal populations (active during the daytime mainly) only occurring where their preferred prey is also diurnal (e.g. South Africa's Drakensburg Mountains).
A troubling statistic that I have repeatedly seen is that Yala Block I (140 km²) has a leopard density of 1/km². This would mean 140 leopards in the Block, an absurd notion to anyone who regularly visits the park and especially so given that the highest recorded density estimates in the world are 0.23/km², from Zimbabwe (Smith 1977) and South Africa (LeRoux and Skinner 1989). The troubling aspect is not just that it is quite clearly incorrect, but that it has been unquestioningly embraced and repeated by many who, upon reflection should know better but seem to be blinded by the desire to unnecessarily overhype the leopard in Sri Lanka.
Promoting this incorrect density estimate indicates that visitors are practically tripping over leopards in Yala (which clearly they are not) and provides a completely inflated impression of their numbers and thus their conservation status. It is this latter aspect that has potentially damaging repercussions as it can lead to a false sense of security regarding conservation management of the species. Yala Block I does have a relatively high leopard population density. Using internationally utilized standard methods we estimate the density at 0.18/km² or ~25 adult animals in Block I, one of the highest recorded densities in the world. This is remarkably similar to previous, independent estimates from Yala (Santiapillai et al. 1982). When including cubs, sub-adults and transient animals (those that are simply moving through the landscape and are not resident) - which are not typically included in density estimates - the total number in the Block is 40 -50, still a far cry from 140. When analyzed in comparison to 21 other international studies, this density (0.18/km²) falls neatly onto the curve of density estimates as determined by available prey biomass (the amount of consumable prey measured in kg/km²), again situating the Sri Lankan leopard well within the context of "typical" leopard populations.
What makes the Yala leopard population unusual is not its density, but its visibility. This is probably due to a combination of factors including a healthy population with an abundance of young animals (it is this age group that tends to most often be seen, especially young males); a lack of dominant competition which has led to a reduced need for secrecy; and habituation resulting from many years of park visitation.
Our present work, in the central hills, is focused on determining leopard distribution in this highly fragmented, human impacted region and investigating movement between often-isolated forest patches. So far we have documented leopard populations residing in close proximity to established urban centres as well as rapidly occupying re-forested estate lands. In Hantane, near Kandy, where leopards occasionally prey on dogs, we have been relieved to discover that this behaviour is uncommon. The relief is because when carnivores start preying heavily on livestock and/or domestic animals it indicates that their usual prey is in short supply, which is often the first step towards an increase in human-wildlife conflict. Instead the Hantane leopards – based on ongoing results - are preying extensively on porcupine and barking deer.
There are many unanswered questions about the leopard in Sri Lanka and more work to be done before we have a sound appreciation of its status, ecology and behaviour. Our work and that of others is helping to chip away at this rock of ignorance. Thankfully Sri Lanka is both replete with wildlife enthusiasts passionate about the leopard and the wild places in which they roam and infused with a natural conservation ethic, so hopefully there is a positive future for the conservation of this magnificent animal. However I want to stress the importance of ensuring that information is as accurate as possible before promoting that information. The tale of tiger conservation in India is a valid example of how incorrect information can negatively affect conservation efforts. Due to a poorly managed data collection system relying on too many people with not enough knowledge and a woeful lack of standardization, for years the tiger population estimates in India were over-exaggerated.
The ever-increasing tiger numbers that were quoted naturally led those involved in tiger conservation to relax, which led in turn to a diminished effort to protect individual reserve boundaries and attend to some of the most pressing threats including a thriving trade in poached skins and bones.
Upon recent realization that numbers had long been overestimated it was too late for several reserves where tigers had already been extirpated; this has caused panic in the conservation community. While the situation for leopards in Sri Lanka is not nearly so dire, the lesson can still be appreciated and hopefully learned, to ensure that we never venture down that same road.
(The writer is a Zoologist, Principal Researcher/Founding Trustee of The Leopard Project Wilderness and Wildlife Conservation Trust Sri Lanka)
Pens to protect
By Malaka Rodrigo
Yala leopards roaming outside the boundaries of the wildlife park find cattle grazing around the Yala buffer zone irresistible prey. This has made the leopard the number one enemy of the herders and it is not easy to convince a herder who just lost a calf to a leopard that the leopard shouldn't be shot or poisoned.
Such retaliatory attacks have seen a number of leopards being killed annually. Recognizing this threat, a group of wildlife enthusiasts - the late Dr. Ravi Samarasinghe, Shirom Kulatunge and Darrel Bartholomeusz started a pilot project in 2006 to provide a leopard-proof pen to herders so that they could keep their young calves safe at night when the nocturnal leopard usually attacks.
Dr. Samarasinghe, a pioneer in leopard conservation estimated that around 10 leopards are killed in the buffer zones – outside the Yala national park. After much discussion and research with herders in the areas, project Pug Marks got off the ground.
"I had lost a number of cattle, but after I got the pen, my cattle are safe," said Wasantha Jayasinghe, a cattle herder. Wasantha said that they have seen leopards near the new pen and also signs that the predator climbed on it but the cattle were safe inside.
The pen -10ft wide, 20ft long and 5 ft tall is made with galvanised iron pipes and chain link fencing, covering the top and sides. It can also be easily dismantled and reassembled, giving the nomadic herders the freedom to move to new pastures.
Wasantha said individual herds are attacked once or twice a year, but that the leopard kills more than it can eat. On one occasion a leopard had carried away a young calf, after killing five of his cattle on an earlier occasion. Angry herders often poison the half-eaten carcass knowing that the leopard usually returns to its kill. The number of leopards that have died in this way may be more than what is recorded, as the bodies may never be found sometimes.
Seven such pens have been distributed so far. An association was formed at community level to select who should receive them depending on the area where such attacks are frequent. The raw material costing about Rs. 30,000 is given to the Herders' Association and the cage constructed at their cost, getting the community involved in providing the solution.
The representative on site liaises with the herders. He is provided a bike and mobile phone for this purpose. If a leopard is seen in the vicinity, the cattle herders notify him so that a cage may be provided for the protection of their cattle.
Co-ordinator D.K. Susantha, often visits the cattle herders who have the pens to ensure the success of the project. He said the attitude change of not seeing the leopard as an enemy is one of the key accomplishments of project 'Pug Marks'. He recalls how a herder was arrested with two leopard skins in his possession in 2000. The skins were not well prepared, indicating that the killing was not for skin, but that the herder was angered to see his cattle killed and with the whole system after getting punished. This herder was also given a leopard-proof pen and is now helping the authorities.
With over 60 cattle herders in the area, there is a need for more pens and the project Pug Marks people welcomes any donations.
More information about Pug Marks could be had from Darrel on 0777672503 or by emailing projectpugmark@gmail.com
Leopard shooting raises questions
Six-foot carcass of animal found in culvert close to main entrance of Yala National Park
By Malaka Rodrigo
A spate of leopard deaths, the most recent being a shooting reported from the vicinity of the Yala National Park has raised serious concern among wildlife enthusiasts.
The still-warm carcass of a six foot female leopard was spotted in a culvert near the main entrance of the park by an army foot patrol unit around 9 a.m. on April 19. A single T56 shot had entered the shoulder of the animal and come out from its head.
The nature of the gunshot wound indicated that the leopard was on a tree at the time of the shooting, leopard experts say. The proximity of the shooting to the park has raised questions as to how poachers could have carried out the act without being spotted by the authorities.
A probe by the Department of Wildlife Conservation into the shooting revealed that the animal may have been killed further inside the park before being dumped in the culvert close to the park entrance. However, since the carcass was still warm when discovered, the shooting could not have occurred more than a kilometre away from the culvert, wildlife authorities say.
Ananda Wijesooriya, Director General of the Department of Wildlife Conservation (DWC) told The Sunday Times that a special team was sent from the department to conduct a probe even after a post mortem was carried out since the shooting had taken place close to the Yala wildlife office.
He said the probe revealed that an automatic weapon had been used in the shooting, adding that it was difficult to track down the culprits as the area had many units including police, army and home guards providing security, following LTTE attacks in the park.
He said the DWC had handed over a report on the findings to the officer in-charge of the Yala area and was awaiting ministry approval to conduct further investigations. The park warden was interdicted last week following the incident.
Last month a black leopard met an agonizing end when it got strangulated in a wire trap at Kalawana while in September a leopard died from injuries to its kidneys in Nanuoya after falling victim, once again to a wire trap.
Rare black leopard a new species?
By Yohan Perera and Ajithlal Shanthaudaya
Environmentalists yesterday said the discovery of a carcass of a rare black leopard in Deniyaya on Thursday may turn out to be a new species, but stressed a proper conclusion could be made only after full investigations.

Well known Environmentalist Jagath Gunawardene told the Daily Mirror that the melanin form of the carcass would make it a new species. "The bright black colour is something unusual and makes it different," Mr. Gunawardene said.

Mr. Gunawardene said this was the third time that such carcasses had been found during in recent times. One was found at Weerapana in the Galle District and the other one in Ratnapura.

The birth of a black leopard was also recorded at the Dehiwala Zoological Gardens in 1983.

Wildlife officials said the rare black leopard was found in a village bordering the Sinharaja forest on Thursday. They said the black wildcat similar to a leopard had been caught in a trap laid by a villager at Kolawenigama in Deniyaya.

The carcass is three feet and seven inches long with the tail extending to a further two feet four inches.

Wildlife officials said the skin appeared black from a distance but on closer inspection black spots could be discerned like that of a normal leopard.

Uda Walawa's Ath Aturu Sevana veterinary officer Dr. Methmi Kumuduni said the age of the animal could not be established as it was the first time such an animal had been discovered.

She said the carcass displayed all the features of the Sri Lankan Leopard (Panthera Pardus Kotiya) and the discovery of a similar carcass was reported from another village bordering the Sinharaja forest in Kalawana several years ago.

But in that instance the carcass could not be identified as it was in a highly decomposed state.

Dr. Kumuduni said that there were reports of occasional sightings of similar animals from the Horton Plains and the Sri Pada forest reserves but nothing had been specifically recorded.

She said further examination on the carcass were being conducted to find out whether the animal was a result of a gene mutation of the Sri Lankan Leopard or was a sub species of the variety. Wild Life authorities said a DNA test would also be carried out.
The carcass was brought to the Ath Aturu Sevana in Uda Walawa for examination and had been sent to the Kahawatta hospital mortuary for preservation.
Leopard meets its death
by R. L. Gurugamage- Dodanduwa
Animal lovers are immensely perturbed about the shoot­ing down of a leopard that infiltrated into the village of Kolegala in Ratnapura on January 27th morning.
It is a well grown sturdy animal in full stature. It may be that this animal haphaz-ardously crashed into this habitable village whilst roaming in the jungle.
The question is as to whether there was no other means of controlling or incarcerating this animal and save its life.
At a time when rare species of animals are facing extinction this type of animal destruction has to be viewed with regret.
A method of temporarily controlling this ani­mal was to have shot it with a tranquilliser gun and thereafter immediately tether it with a nylon rope until the Wildlife Depart­ment officials appear on the scene.
The animal could thereafter be transported to the Dehiwala zoo or release it to a jungle congenial to it. The leopard is a protected animal and is the fauna wealth of this coun­try.
The reason for the shooting is attributed as for the security of the life of the community. In such instances all possibilities to safe­guard the lives of rare animals have to be probed into before shooting as an inevitable step.
Hence I suggest that the Wildlife Depart­ment formulate some procedure in this regard to familiarise the law enforcing per­sonnel stationed in borders of jungle areas to use tranquilliser guns and temporarily arrest such harmful and dangerous animals before shooting them down as a final resort.